In this cruel, unfair, cold world there are so few certainties. Love. Compassion. Friendship. Honesty. Art. Or, in a better thinking, there is no certainties at all. Howsoever, some individuals bring those (no)certainties with themselves. Jim Jarmusch is, no question, one of them.
Among so many images, songs, stories, forgetfulness is usual. But I question myself how I can forget some things.
Only Lovers Left Alive
is one of these things, and a picture of the movie in the internet reminded me, at saturday, of what I shouldn't have forgotten: a vampire love story directed by the amazing Jim Jarmusch.
So, I was chosen again by a movie, and Only Lovers was with me in this challenge. After seeing it last night, I turned off the TV, went to bed, read the final pages of the last Murakami's book, The Colorless Tsukuru Tazaki and his years of pilgrimage and sought oblivion in what would hopefully be crazy dreams. Because, if I had decided to write about this movie right away, this post would be nothing but sighs. Profoundly happy sighs of joy and extasis.
Not that it is so different the way it is now, a day latter.
I have to say more? Ok. Carved by hand are the scenes, as a fine sculpture. Tilda Swinton and Tom Hiddleston are a true vampire couple - there are not another explanations for their perfection on these roles. The story doesn't take itself so seriously, and is deathly serious just for that. The humour is sharp. Its fierce commitment to love. Mia Wasikowska (hello again!) and John Hurt are also vamps. The art direction is pure joy. Music and books are what make these characters... So, as I've said, extasis.
I've spent all sunday in a bubble of anxiety - I had decided to watch the movie at night, of course, and I hardly could wait to see it. I poured a pint of Guinness (Sorry, Jim, those two brithish actors are the priority), turned off all the lights in the house, silenced my phone, and put my heart in soul in front of the screen. And except for the last scene (there is always a but), I thought it was a very wise settling for a F@*$(##**% amazing movie.
The swearing above is not in vain, I promise you, my friend.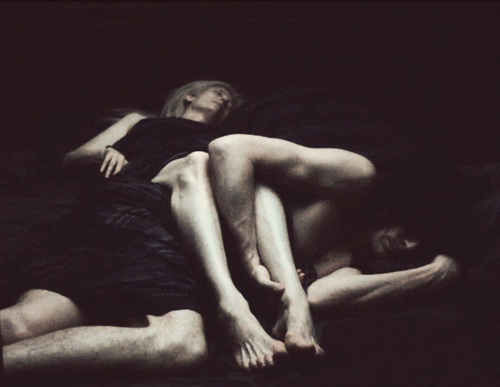 Only Lovers Left Alive. Directed by Jim Jarmusch. With: Tilda Swinton, Tom Hiddleston, John Hurt, Mia Wasikowska. Writer: Jim Jarmusch (of course). US/Germany/Greece/Cyprpus, 2013, 123 min., SDDS/DTS/Dolby Digital, Color (DVD).
PS: I don't know how that happenned, but I put Jim Jarmuch's Dawn by Law (1986) competing with Steve Soderbergh's Sex, Lies and Videotapes (1989) at Cannes. It wasn't like that, how I could confirm now in the resourceful internet. But both directors, with these two movies in particular, got my attentions at the same time - at least in my head. From that moment, I always was aware of their movies. Soderbergh lost a bit of my interest in some aspects, but I still enjoy his films. This post scriptum, though, is mainly to thank Jarmusch for introducing me to Screamin'Jay Hawkins, in this scene from Stranger than Paradise (1984):
PPS: To be fair, "This is not a taxi, I promise you, my friend" is in my mind because of Michael Cera in the too cute for one's health Nick and Norah's Infinite Playlist (2008).