On a day that I had a urgent need for being quiet, a late afternoon at the movies was the best choice, confirmed when I met Joe and Andre at the box office line. They were heading to The Clan (El Clan) too, and it was nice talk about the movie briefly with them after. I was happy to see you, guys!
I missed the very first scene and the note about this film being based on a true story. However, I realized that soon at the begining. A teacher, quoting Kieslowski (maybe), said that the reality has a way of surpassing fiction. This story were so surreal that it could only be a based on facts.
For sure, I will never be able to look at Guillermo Francella without a cold shiver of fear. I spent the whole movie so freaked out by him (oh that stare...), a crescent sense of doom falling over me.
Some scarce thoughts occurred to me during the movie. One, that the generation after the '80s has no recollection of what a military dictatorship really means. In Brazil, it is becoming usual to see people defending it, without the slight idea of what it means - or so I hope that they've no ideia (the other option is too dreadful to even think about it). In a Argentina after the dictatorship , the military superiors continue to spread the terror, and The Clan is an astounding look to this fact.
Other thought is how Family is not a word... is a sentence. This is the tagline for The Royal Tenenbaums, a movie that I love. It is a long sentence... or it is a sentence for life. Both meanings are true. The last one is noticeable in The Clan. The family strings are too strongs... and to be free of it is not an easy task. For the Puccio's it was impossible for most of their members.
The most unbelievable true fact is presented by the fate of Arquímedes Puccio. Take a look at wikipedia after the movie, it is horrid and surreal. You, as I did, probably will nod your head in desbilief, asking yourself: what is this world?
El Clan. Directed by Pablo Tapero. With: Ghillermo Francella, Antonia
Bengoechea, Gastón Cocchiaralle. Writers: Pablo Tapero et al. Argentina/
Spain, 2015, 110 min., Dolby Digital, Color (Cinema).
After saying goodbye to the boys, I immediately headed to Macbeth. To be 100% honest, I wasn't expecting much. This way, I didn't get too disappointed (finally) when my first impressions were confirmed.
The cinematography here is stunning. The sound design is project to wow us. And that's it. Amazing actors proving that they can recite Shakespeare, in awfully pretentious performances - it pains me to say that, because we're talking about Michael Fassbender and Marion Cotillard here, great actors that I admire. But they weren't able to tell this tragic story, I think.
The whole movie lacks soul, it is my final verdict. It is sad to witness such a thing. However, as I've said above, the cinematography is outstanding, and it made stare in amazing to what I was seeing on the screen. At least the eyes were marveled, if not the soul.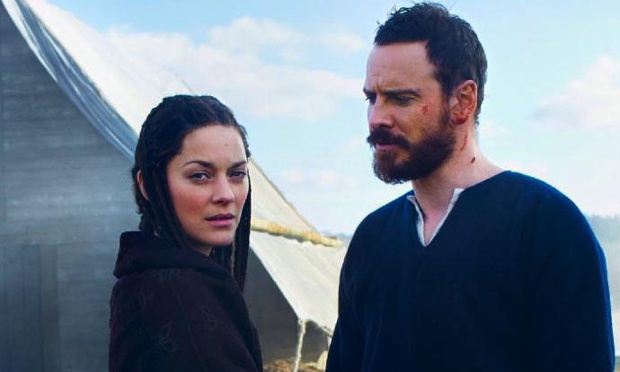 Macbeth. Directed by Justin Kurzel. With: MIchael Fassbender, Marion
Cotillard, Jack Madigan. UK/France/USA, 2015, 113 min., Dolby Digital,
Color (Cinema).
PS: Dash & Lily time. I know there's a lot of spoilers on those quotations, but I'm trying to keep them at a minimum, I swear.
It both mystified and intrigued me that such a seemingly dour person as Dash was great friends with an extremely exclamation-pointed person as excitable Boomer.
(Lily, page 153- I love Boomer :).