What we don't do for love :)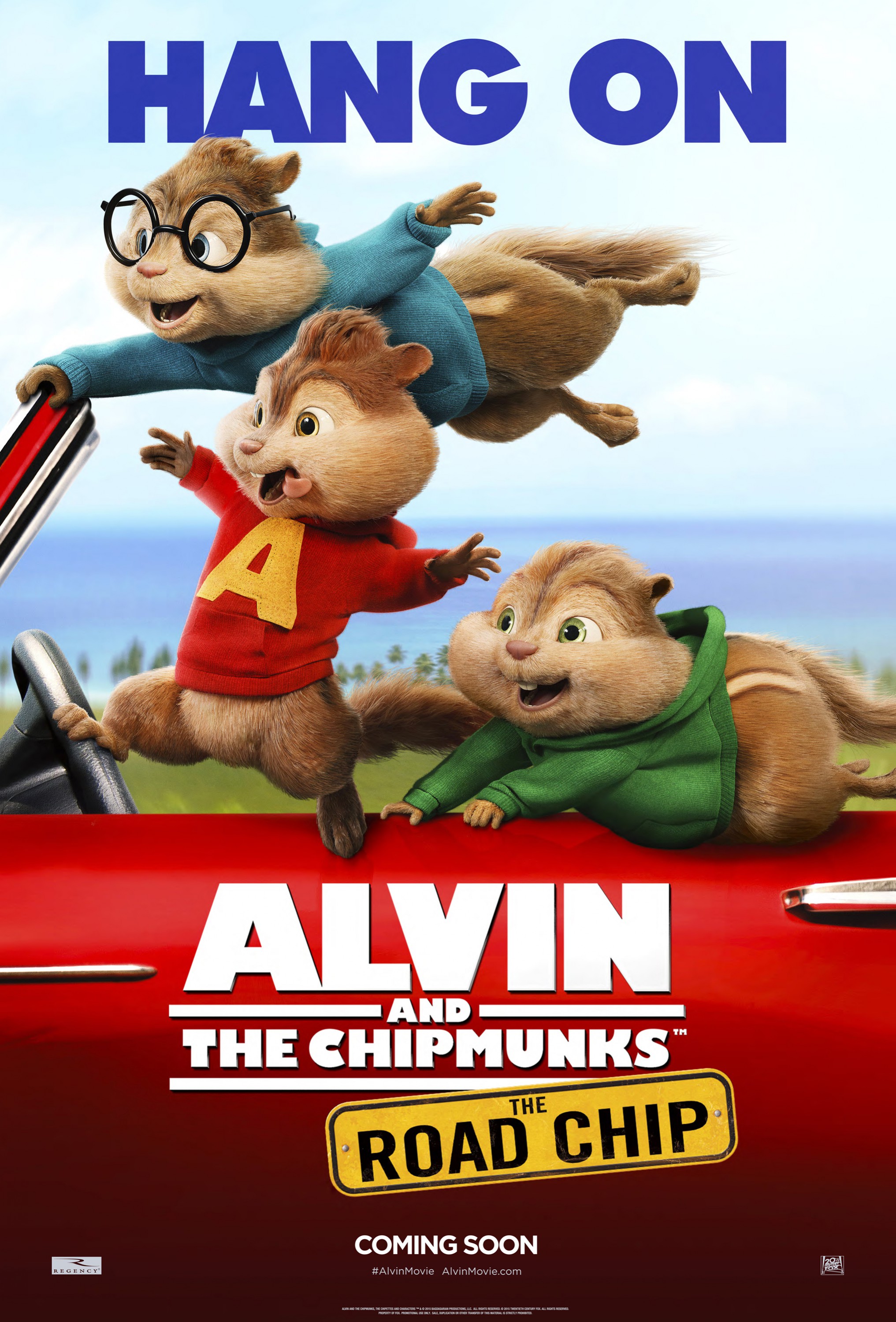 Still a bit wrecked after the amazing Christmas, my niece called me to take her and her friends to the movies. And there I was, in a still crowded shopping (Christmas is over, people!), with three teen girls and my oldest niece, to watch Alvin and The Chipmunks: The Road Chip. The girls say that they're not babies anymore, but that didn't prevent them to see a beloved series from their early years. I think it is not by chance that there's a cute young guy on this movie - after all, some of Alvin's fans are growing up (not too much though)..
What was that movie theater. So loaded with hyperactive kids and desperate parents and great parents (and aunts and great aunts). There wasn't enough space to breath actually. The odd thing was: I had a better time than I'd expected at first. The girls were a few rolls from us, and Flavia and Me were squeezed between two families, kids kicking our seats and all of that. And still we could enjoy the movie, even if it is silly and not that good. I didn't matter, though. We were together, in a festive atmosphere, having too much fun with those three incredibly funny girls that think they're all grown up but are still nice and sweet kids.
I haven't talked much about the film, I know. Well, as I've said, it didn't really matter today :)
Alvin and the Chipmunks: The Road Chip. Directed by Walt Becker. With:
Jason Lee, Jessica Ahlberg, Josh Green. Writers: Randi Mayem Singer,
Adam Sztykiel from the characters created by Ross Bagadasarian, Janice
Karman. USA, 2015, 92 min., Dolby/Datasat/Dolby Digital, Color (Cinema).
PS: One of the best dialogues on Dash & Lily's Book of Dares are on December, 27th. the (not absolute) heartbreak happens on this day too. It is sad, but I the best thing that could happen to both Dash and Lily after all - as the next days will prove. This doesn't prevent a sense of dread everytime I reach this part on the story. I never said I wasn't silly, right? :) And thanks to the end of the chapter this day is over.
"If you tell me, I will leave you alone," I said. "And if you don't tell me, I am going to grab the nearest ghostwritten james Patterson romance novel and I am going to follow you through this store reading it out loud until you relent."
"You're evil," he said. "You that?"
I nodded, even though I usually saved the word eveil for perpetrators of genocide.
No. I had to reassure myself. The words in the red Moleskine were not written by the girl in your head. You have to trust the words. They do not create anything more than themselves.
"That would depend on what kind of tea you were offering."
"So different! Suppose it was Earl Grey."
"Tastes like pencil shavings."
"I don't drink beverages named after beheaded monarchs. it seems so tacky."
"Might as well sip butterfly wings."
"The old woman nodded her approval. "I Wasn't."
"Would you like some mint tea?"
"Listen to me: I never married because I was too easily bored. it's an awful, selfdefeating trait to have. It's much better to be too easily interested.
(I couldn't say that better myself, Great-aunt Ida! - page 118).
I stared up to the sky, trying to search out the genius who coined the term wasted, because he or she deserved mad props for nailing it so perfectly. What a wasted girl. What a wasted hope. What a wasted evening.
"But, you see, that's the luxury of being a lout - you get to be selective about when you care and when you don't. The rest of us get stuck when your care goes shallow."
(Dash, page 131).
PPS: If you have no idea what I'm talking about, go to the post scriptum on
Day 287
:)