When I first saw Playing it Cool trailer on the theaters, I thought that there was no way I would watch it. No freaking way in hell, that's was my last verdict. I didn't predict how in love I would fall for Chris Evan after Snowpiercer and Before I Go though. So it became inevitable to reach this apparently very bad rom com. What we do for love.
Even if i was expecting an awful film, it still was very disappointing. Yep, this film is this bad. And I cannot figure out how the writing could sink so low. What love lead us to do is a main subject here, and Evan's character doesn't believe in love. Of course he will fall badly for Michelle Monaghan, one of the more lovely women in romantic comedies. I never saw a cynic, skeptic bachelor that wouldn't fall for her. That's an undeniable fact on the rom com world. Evans is not different, and so his saga begins.
There's many nice actors around him for his journey: Topher Grace, Aubrey Plaza, Luke Wilson (Luke Wilson!!!!). But they're for nothing. Nothing and nobody can save such a sexist and confusing script. And the funny here is that it tries to invert the roles and go against the grain of the usual rom flicks, only to achieve just the opposite: an unbearable view of woman roles in society and of human relations. A trait of only the worst writers - and to think that Chris Schafer and Paul Vicknair are responsible for the heartfelt Before We Go. Many things could have been good here, but they turned out awfully wrong.
Not even this surreal downfall is worth to see, I think. No, let me rephrase that. Maybe it is worth your time, in a boring day in which you cannot decide what movie to see. Everything is already lost, so this movie won't add a lot of doom to it. There's some funny lines, all of them giving me hope for better days, all in vain. But I could see it without dying, a valuable sign I think.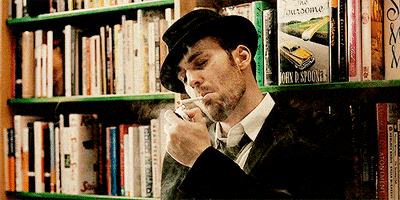 Playing it Cool. Directed by Justin Reardon. With: Chris Evans, Michelle
Monaghan, Topher Grace. Writers: Chris Schafer, Paul Vicknair. USA,
2014, 94 min., Color (Netflix).
PS: I love December, 23rd in Dash and Lily. We get to know them better - they get to know each other better. Lily goes alone to the movies (my favorite occupation) for the first time... Dash gets the most delicious cookies as a gift. Live is good on the 23rs. And there's Boomer, of course <3 <3
"Who's Lily?"
"Some girl."
"Ooh, a girl!"
"Boomer, we're not in the third grade anymore. You don't say, 'Ooh... a girl'"
"What? You fucking her?"
"Okay, Boomer, you're right. I liked 'Ooh... a girl' much more than that. Let's stick with 'Ooh... a girl'!'
(Dash, page 46/47).
I had a chance to read what Lily had written in the journal. I thought even Boomer would like the Shrilly story, although he'd probably feel really bad for her, when I knew the truth: it was so much cooler to be the weird girl.
(Dash, page 47/48).
"Why are there so many people out here?" Boomer asked as we bobbed and weaved roughly forward.
"Christmas shopping," I explained.
"Already? Isn't it early to be returnin things?"
I really had no sense of how his mind worked.
(Dash, page 49).
PPS: Someone that have been in Madame Tussauds NY can tell me if there's in fact a bench with Elizabeth Taylor, Jugh Jackman and Clarck Gable perched on it?
PPPS: If you have no idea what I'm talking about, go to the post scriptum on
Day 287
:)