I must say, there's things that I love to see on the cinema, and a quiet, and a good Sci-fi movie is probably on the top 5 (Hello, High Fidelity :).
I was expecting a lot from Moon, by Duncan Jones, the same director of the intelligent Source Code. I wasn't disappointed - just the opposite. Moon is really brilliant in fact.
An astronaut and a computer inteligence are the sole inhabitants of a lunar station - the references to 2001: A Space Odyssey are inevitable. I was stuck on that until the whole scenario became clear to me, and what I've saw was astou
nding.
Jones presented a similar subject in his two very different movies: how human life can be brutalized and vandalized by so called superior intents. The government, big money... it doesn't matter. To achieve the a common good and social safety, the life of an individual may be reconsidered without any second thought. It is revolting, and Jones build his case in each scene with a good actor direction (Sam Rockwell is truly amazing here), clean images that don't prevent a feeling of claustrophobia repeating musical theme that increases the suspense.
I was glued to the screen, waiting for what would come next. Few movies make me feel like that, and this clever and beautifully filmed Sci-fi was one of them. From what I've read about it, it is a bit of a cult already, but I've never heard about it until Source Code. It is another gem that I had the pleasure to meet on this dare.
I maintain my first oppinion. What a movie.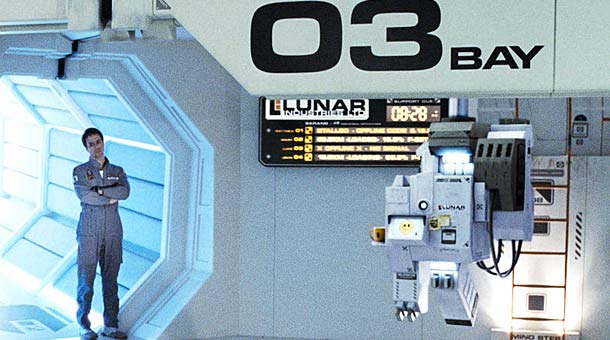 Moon. Directed by Duncan Jones. With: Sam Rockwell, Kevin Spacey,
Dominique McElligott. Writers: Nathan Parker from a story by Duncan
Jones. UK, 2009, 97 min., Dolby Digital, Color (Netlfix).