I remember that a lot of people asked me if I'd seen Pi when it premiered at late 90's. My answer was no everytime, and I was a bit curious about the movie, but didn't made any movement to watch it. Until now.
I'm not sure what took me so long to reach Darren Aronofsky featuring directional debut, but I'm thankful for that. And for seeing in in what I considered a "good day", because it is not an easy film to see. But I was fascinated by it from the first scene. I'm totally stupid for math, but the character's pursuit for a universal truth through numbers is not nonsense for me. And how Aronofsky shows that is beautiful: the outstanding use of black and white, the amazing performances, the tiny details in daily life that cinema got famous for showing... Pi carries many elements of its own time - it is an indie movie from the 90's at first sight, but yet it is still modern. I was truly amazed.
But there is a problem in paradise. Science, religion and money as ways to know the world, control and explain it can take all the beauty of the search for the truth. They are seen as different, still they cause the same harm. Obsession, greed, intolerance,madness. A man seeking the universal patterns of life through it almost lose himself. Until, through his own madness and of those around him, he can see the simple truth of being alive. He can see the universal patterns in the world not through scientific formulas, but in himself and in nature. Sounds cheesy? Maybe. In Aronofsky's film I thought it was a simple and beautiful truth, though.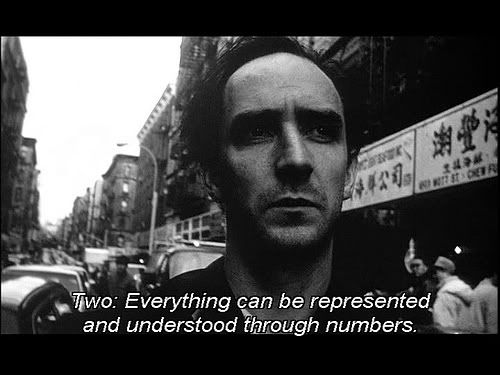 Pi. Directed and written by Darren Aronofsky, from the story by Aronofsky,
Sean Gullette and Eric Watson. With: Sean Gullette, Mark Margolis, Ben
Shenkman. US, 1998, 84 min., Black and White, Dolby (Netlfix).