This night, after watching Paper Man, I dreamed with the movie - disturbed, undistinguished dreams. In one of them, a character from the movie (Christopher) tried to say something to me, but I couldn't grasp what he was saying. He appeared and disappeared, and I was never able to hear what the wanted to tell me.
During the dream, I was aware that was exactly my feelings in this movie, nevertheless in a different manner . I was able to understand what the story and its characters were telling me, and i agree with what they've said... but it didn't touch my heart. I couldn't reach it in other way than the strictly rational. It was sad, actually, because the movie presents an accurate view of the pain and sadness we carry along sometimes for no other reason than how comfortable and familiar they are.
A (unusual and unexpected) friendship is a way out of this perverse cycle, what is usually endearing to me. And Jeff Daniels, that I like a lot, along with Emma Stone, a usual joy in the screen, is not a small feature (not forgetting Lisa Kudrow and Ryan Reynolds, who is surreal funny here). The two protagonists are sweet in this melancholy story about losses and the fear of letting go. But my mind took control, and I got to the end of this movie feeling that there was something there that I hadn't been able to grasp. Like in my dreams tonight.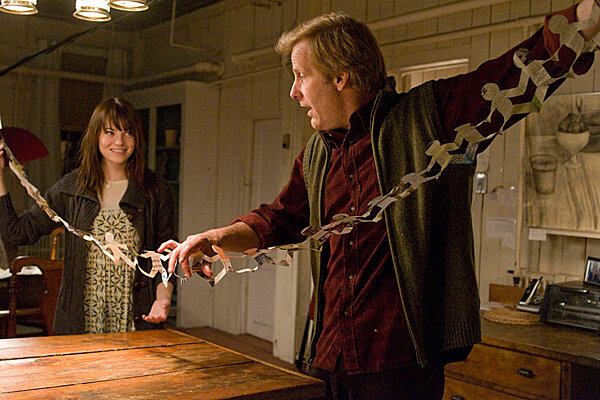 Paper Man. Directed and written by Kieran Mulroney, Michelle Mulroney.
With: Jeff Daniels, Emma Stone, Lisa Kudrow, Ryean Reynolds. USA, 2009,
110 min., Color.
PS: Joe always surprises me with many sweet,beautiful, amazing movies to see, ones that I wouldn't reach without him mentioning it to me. Talking about how I love Jeff Daniels, he told me about Paper Town and another one, that probably will be here soon. On my turn, I told him about two productions with this incredible actor. One is a movie with Demi Moore from 1991,
The Butcher's Wife
. I'm for sure the only person in the world that like it, and I really do, a lot :) Daniels is funny and weird, it is amazing. The other is the TV Show
The Newsroom
(2012-2014), that I talked about here
before
. Joe and I talked a lot about movies on this day, so you can expect some good movies coming soon. I am, for sure :)
PPS: All the movies to see and the big support that Joe gives me usually are precious gifts, but on this day he decided to increase his already great generosity with amazing and beautiful gifts (he incarnated Santa Claus, actually, and in a very cool way ...). To be get a friend's art as a gift is something incredible, there's no way to describe such happiness. And Joe was over generous (I'm not complaining, though :). His short movie,
Overrated
, premiered here in Brasilia last weekend, and others screenings will be coming soon, I'm sure. As I know that before long he will take the world with his accurate and sensitive way to look at the world and its inhabitants. Thank you, my friend, always <3