I've seen The Invisible on cable TV a while ago, and I really liked it. So, on this day, when I saw it beginning, while browsing channels to look for something to "have breakfast" with me, I couldn't resist watching it again.
It is funny how time changes things. The movie was still enjoyable and did hold my attention the whole time. It is a nice teen thriller, to short the summary. I can't identify nothing special about this movie, but it is really alluring to me. And that element was the same for me today.
The difference was that I could recognize many actors that only were known to me some time after seeing this movie for the first time.
Jason Chatwin is in
Orphan Black
and Shameless
(better not mention DragonBall Evolution...)
Margarita Levieva was the fake Amanda Clarke on
Revenge
. Alex O'Loughlin I already knew from Moonlight, a nice vamp TV show. Britt Robertson, from Life Unexpected, has been in a lot of recent productions - Cake, Tomorrowland, Under the Dome -, but was uncredited here. However, the biggest surprise was a younger Cory Monteith, in one of his earlier roles before
Glee
.
Does it sound silly to highlight such aspect? Well, it was what called my attention today. I've already knew the story, and I was able to enjoy it again. But see actors that I wouldn't fail to notice in a movie today in roles that was nothing but secondary just a few years ago is to think how time runs faster in Hollywood. Too fast sometimes.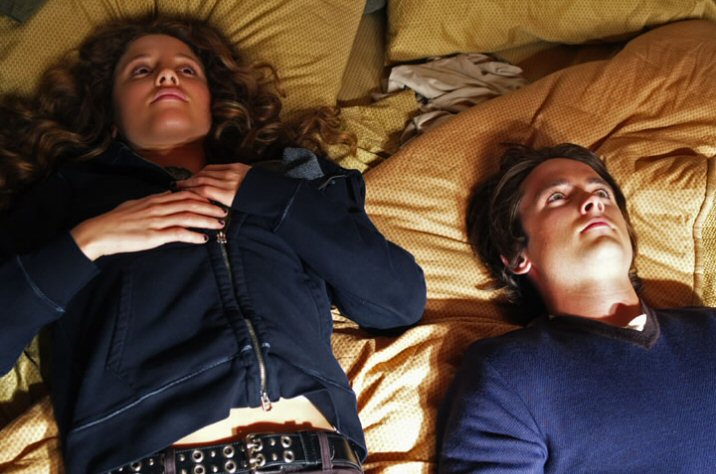 The Invisible. Directed by David S. Goyer (it is worthy take a look to his
filmography). With:Justib Chatwin, Margarita Levieva, Marcia Gay Harden.
Writer: Mick Davis, Christine Roum from the novel Den Osilynge, by Mats
Wahl. USA/Canada, 2007, SDDS/Dolby Digital/DTS, Color (Cable TV).
PS: Today, I got to the final episode of True Detective season 2. At the final credits my heart was smashed on the floor, and took me a while to revive it (I'm still working to get there, actually). I've read how this new season is not as good as its predecessor, and I agreed at first. The point is, season 1 was genius, absolutely outstanding... it is not easy to live up to it. And there are some groveling aspects in this. However, letting all comparisons aside, and overcoming some of the lesser elements, this new part of this clever series is pretty good - the last two episodes proved that -, even if not so intriguing (ok, it is impossible not to compare it to season 1....).