Do you know when you want to really love a movie, still every take just take you to the opposite direction? That was Like Crazy to me. So sad.
Felicity Jones and Anton Yelchin are good reasons to reach this movie. The first scenes are so beautiful, I was sure I'd absolutely love it. After a while, I realised that it wasn't so easy. I was pretty impatient with the characters. Slowly, I identified the issue here: their relationship simply didn't made sense. It wasn't crafted in a way that would convince me why they would experience such pain to be with each other, or even why they wanted to go through all that to stay together. Their other relations made much more sense to me to a point that I was screaming at the screen: stay apart, people! You're better away of each other. Ugh.
The thing is, a writer can tell us those two are desperately in love. This is not enough, though. This love must be crafted in a way that we feel it is a matter of life and death for them to be together despite all the miserably difficult problems they face. It was not done actually. This way I spent the whole movie being annoyed by the couple's antics. Get a grip of yourselves, I thought.
I love love, and I was disturbed to be annoyed by those two beloved actors. I'm holding a personal issue against Drake Doremus, in fact. It is not fair that he would mess up with story with such a good potential.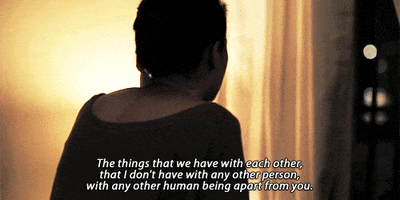 It is not enough to tell me that through words... sorry.

Like Crazy. Directed by Drake Doremus. With: Felicity Jones, Anton Yelchin.
Jennifer Lawrence. Writers: Drake Doremus, Ben York Jones. USA, 2011,
90 min., Dolby Digital/Datasat/SDDS, Color (Netflix).



PS: Anton Yelchin has been featuring many movies in here: 5 to 7 (2014), Rudderless (2014), Only Lovers Left Alive (2013), Fright Night (2011), Terminator Salvation (2009). He's slowly leaving the background of good stories to take a main spotlight. I've seen parts of Odd Thomas (2013), and I like it, but the sad ending prevent me to see it in full. It is worth to pay careful attention to his career and his unusual and diverse roles - he is also in the new Star Trek movies as Chekov.