A recent Mads Mikkelsen movie with a 5.7 ranking is something difficult to believe. However, after reading about the making of Move On, I could understand why this movie is so incredibly badly ranked.
It starts as an interesting and somber spy movie. Its development is infamous though. the reason? As pointed by many comments, this film is actually a long advertising piece. Cars, cell phones, tourism (the better part)... Consumerism in 80 minutes advertisement, originally presented in 8 parts online. Not for nothing there's any extensive info about it on imdb.com.
I enjoyed the supernatural bit in the end. it could have been an intriguing touch if some relation to the rest had been presented in some point of the story. As it is, it sounded like a cry for help, a last attempt to give sense to a meaningless story.
Notwithstanding, it is a Mads' movie, and solely because of that I didn't regret this longer commercial. He makes even the more absurd plots and dialogues perfectly endurable. And the scenery is stunning, another nice feature. The rest is a poor excuse for selling cars, cell phones and tickets to beautiful places. The dreadful part is the initial observation that this film was inspired by fans... A sorry excuse to present a clear product endorsement as a feature film.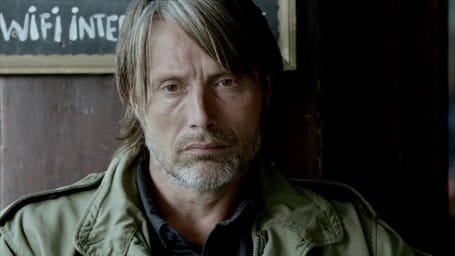 Move On. Directed by Asger Leth. With: Mads Mikkelsen, Gabriela Marcinková,
Kari Fischer. Writer: Matt Greenhalgh. Denmark/Germany, 2012, 80 min., Color.