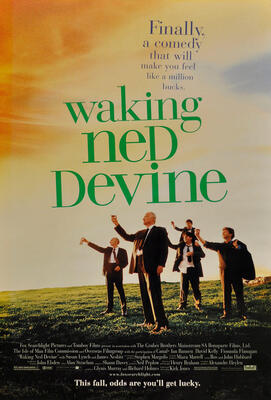 If Waking Ned would had featured David Kelly just making faces to the camera for 91 minutes, it would already be worth to see. That this film is so much more, particularly a delicate look at a small village and its inhabitants' way of living is a pleasant surprise.
I could point out what is so beautiful and funny here - there are particular features that are easy to describe. Others not so much. And it is in those last ones that resides the peculiar delicacy of this film. What really matters in life and people, that is shown in a funny yet quiet manner, in a way so stunning as the view in the Irish village. There's tons of cliches, but they don't turn this story into a caricature. Just the opposite - not an easy task in a narrative, the sensible use of stereotypes. And the plot can be a bit absurd, but the people in it are not, they make perfect sense, as usually happens in nicely told tales.
A funny fact: shootings were located in the Isle of Man, not Ireland, and I was certain that the amazing view was not in Ireland though (this is nor Irish green, I thought... yep, seriously).
Another nice surprise for me came at the beginning, when a bike ride through the beautiful scenario happened at the sound of a beloved band from the 80's, The Waterboys. Fisherman Blues is not my favorite TW song(my favorite album is This is the Sea), but I recognized them immediately, what made me like this movie even more. And thanks to that I was aware of a new The Waterboys album. Not a bad day at all :)
Waking Ned. Directed and written by Kirk Jones. Cast: David Kelly, Ian
Bannen, Fionnula Flanagan. UK/Ireland/France/USA, 1998, 91 min.,
Dolby, Color (Netflix).