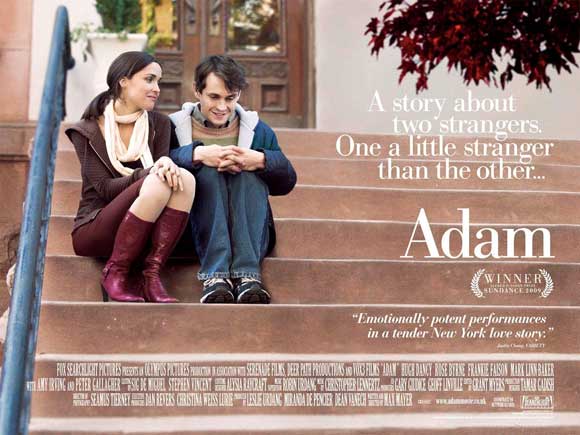 Ok, I plead guilty. What is going on this week? Maybe it is how tired I am, but another cute movie was my choice for this day.
I'd never heard about Adam before. With Hugh Dancy and Rose Byrne, I saw it on one of the Netflix's lists, and thought it would be a nice good movie about Asperger, a subject that calls my attention for some reason. As happened in Me and Earl, a delicate matter is discussed in honest and gentle colors.
It trancends its main theme actually, and at the end what we have is a sensible story about relationships, the emotional cruthces we sometimes use to avoid life, family's dynimics, fear of not bear the many difficulties in life.
It was a nice sequel to the previous super cute stories this week, plus a beautiful and simple surprise.
And Hugh Dancy as Adam? Amazing, as usual :)
Adam. Directed and written by Max Mayer. Cast: Hugh Dancy, Rose Byrne,
Peter Gallagher (weird as Byrne's father). USA, 2009, 99 min., Doby Digital,
Color (Netflix).