I wasn't aware that the Iranian filmmaker Jafar Panahi had been banned from making movies on his country. But he was, and Taxi is his attempt to keep his calling alive, even if under a state prohibition.
According his own words, "Nothing can prevent me from making films since when being pushed to the ultimate corners I connect with my inner-self and, in such private spaces, despite all limitations, the necessity to create becomes even more of an urge". He has other two productions after the ban, This is Not a Movie (2011) and Closed Curtain (2013), filmed in "the secrecy of his home". Taxi Tehran is a more daring journey, on the streets of Tehran, inside a taxi. He is exposed, as it is the movie mechanism. It is incredible and heartbreaking.
Films and filming are discussed through apparently daily and common dialogues. The difficult access to art is there too. And the part about what would make a movie valid to the eyes of Iran is sad and revolting, but never in a caricatured way. It is what makes this movie so endearing: its quiet and visceral honesty.
What was still with me after I left the theater was a tuned feeling with my surroundings, as if I was still in front of the screen. Every sound, the people around, my own steps on the red earth, my car, the sky, the air. During the whole movie, I could feel the air on that taxi, on that city, around the people on screen. This tuned sense remained with me for a while after the non-final credits.
Now, I'm thinking how Panahi and Miguel Gomes established a great dialogue through their amazing resilient way of making cinema. Admirable.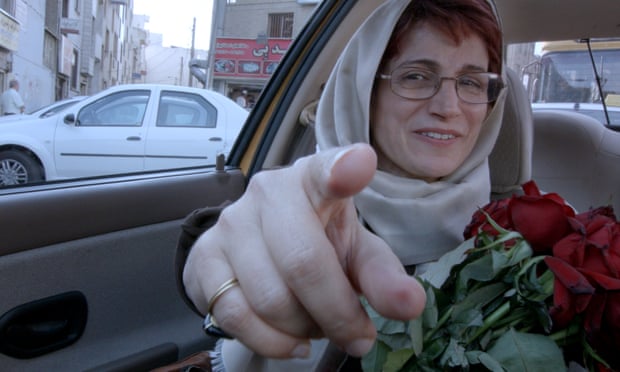 Taxi. Directed, written and starred by Jafar Panahi
(Uncredited cast and crew). Iran, 2015, 82 min., Color (Cinema).
PS: Today, I finally reached
Jessica Jones
season 1. Wow. The noir atmosphere, Krysten Ritter as the protagonist, the secondary characters and, of course, one of the most (or the most) terrifying villain makes wow a very accurate statement. I was a wreck at the end of the first episode. Loss of control is not something to take lightly, and David Tennant's Kilgrave brings it with full force. I was a bit scared to keep on, actually. But I saw three episodes on a whole, granting a night of weird dreams. But it was worth it, no doubt. I just wished it was a 8 episode season... or 4 maybe.